NEWINGTON, N.H., (November 12, 2019) – The SIG SAUER ProForce P229 – the official training firearm of the U.S. Coast Guard – is now shipping to the commercial market.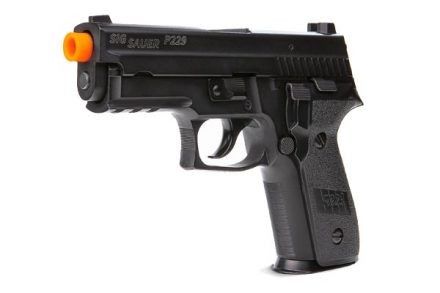 The semi-automatic ProForce P229 is a full-size, metal frame airsoft pistol with an ergonomic polymer grip. Powered by green gas, the ProForce P229 features a full-metal slide with realistic blowback. The drop magazine holds 25 rounds of 6mm polymer or biodegradable BBs, and a picatinny accessory rail allows for the mounting of a laser or tactical flashlight. The fixed front and rear white dot sights facilitate quick target acquisition.
The velocity of the SIG AIR ProForce P229 is up to 295 fps with muzzle energy of .8 joules (using a .20-gram polymer BB); however, results may vary depending on temperature and altitude.
ProForce P229 Airsoft Pistol:
Total length: 7"
Barrel length: 4.75"
Weight: 1.85 lbs.
Finish: Black
Muzzle Velocity: up to 295 fps
Muzzle Energy: .8 joules
Caliber: 6mm BB
Magazine Capacity: 25
Power Source: Green Gas
MSRP: $ 179.99
The ProForce P229 is available for purchase at the sigsauer.com/store.
Tags: SIG Sauer