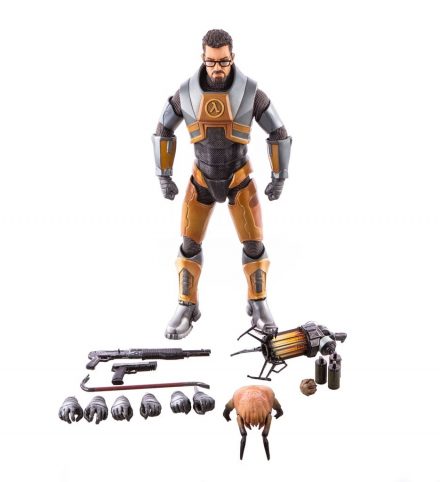 After over a decade since the last entry in the franchise, Valve Corporation has finally announced a brand-new chapter in the Half-Life saga: Half-Life 3 Half-Life: Alyx! And, what better way to celebrate than with a figure of everyone's favorite theoretical-physicist-turned-surprisingly-capable combatant and freedom fighter, Gordon Freeman. This figure depicts Gordon as he appears in Half-Life 2, decked out in the updated HEV suit, and featuring 25+ points of articulation. Additionally, he comes with the following accessories:
– Gravity Gun with light-up feature
– Removable eyeglasses
– Crowbar
– Shotgun with pump action
– Handgun with removable clip
– 3 x Frag Grenades
– Pheropod
– 7 x Interchangeable hands
– Figure stand
The Mondo exclusive variant also comes with a headcrab.
At $200, it's a bit pricey, but either variant's sure to go quick, so you'll want to jump on Mondo's website right at Noon CT to have a shot at picking one up for yourself.
mondotees.com/blogs/news/new-half-life-gordon-freeman-1-6-scale-figure