NEWINGTON, N.H., (May 27, 2021) – From the SIG AIR division, SIG SAUER is pleased to introduce the MCX Rattler Canebrake Airgun Rifle mirroring the same design cues as the original rifle.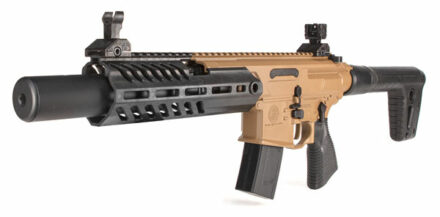 "The SIG AIR line of products combines the unmatched reliability, performance, and exacting standards that the consumer expects of SIG SAUER firearms, and the MCX Rattler Canebrake Airgun Rifle is true to these standards," said Tom Taylor, Chief Marketing Officer and Executive Vice President, SIG SAUER, Inc. "The SIG AIR Canebrake has the same look, weight, and balance of its traditional firearm counterpart, given the immense popularity of the MCX platform, and the Canebrake specifically, combined with the current realities of the consumer market, this SIG AIR release is the perfect training tool. The Rattler Canebrake is the first of many exciting new products soon to come from SIG AIR."
The SIG AIR MCX Rattler Canebrake Airgun Rifle is a .177 Cal. CO2-powered pellet, semi-automatic action airgun that utilizes the SIG proprietary 30-round rapid pellet magazine (RPM). The MCX Canebrake .177 airgun features a metal receiver, paired to a synthetic handguard with integrated M-LOK™ modular locking accessory mounting system, flip-up sights on top of a full-length Picatinny rail, a shrouded barrel, and flat blade trigger.
SIG AIR MCX Rattler Canebrake Airgun Rifle:
Caliber: .177CAL/4.5mm Pellet
Operating System: CO2
Muzzle Velocity: 600FPS
Muzzle Energy: 8 Joules / 6 FPE
Overall length: 30.13 inches
Overall height: 6.9 inches
Overall width: 4.73 inches
Barrel length: 4 inches
Magazine Capacity: 30 rounds
Weight (w/magazine): 7.6lbs
The SIG AIR MCX Rattler Canebrake Airgun Rifle is now shipping and available at retailers and sigsauer.com. A full line of SIG SAUER Airgun accessories is also available on the SIG SAUER webstore at sigsauer.com.
To learn more about the SIG AIR MCX Rattler Canebrake Rifle or watch the product video visit sigsauer.com.