Getting into Dungeons & Dragons can be daunting to the uninformed or someone who hasn't recently spent too much time with the hobby. While you can play entirely for free, legally even, it's much more fun with modules and rulebooks. You get more stuff; sometimes, the structure is an excellent way to start your adventure. At the time of this writing, there are FOUR separate starter kits, sets, and whatever Wizards of the Coast wants to call them, so let's break them down.
Whether a novice or a seasoned player eager to delve deeper into the magical domain of D&D, our assembled guide for beginner kits can help!
Dungeons & Dragons Starter Set
An availability note, while this set may not currently be in general circulation, it can still be located via online bundles, third-party retailers, and local game stores.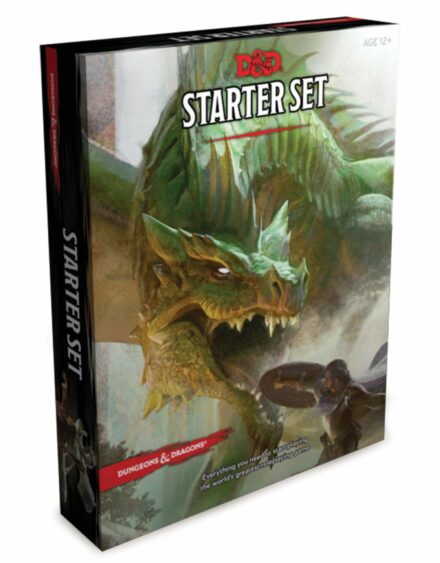 An Introduction to adventure,  embark on an exhilarating journey into the vast expanses of the Dungeons & Dragons universe with the Starter Set. Ideally suited for up to six players, one of whom will assume the role of Dungeon Master, the narrating force that breathes life into the adventure. 
What The Starter Set Offers
Complete Adventure Kit:

The set comes equipped with all the necessary spells, dice, monsters, and wondrous magical items required for your adventure. 

Simplified Rulebook:

The package also contains a 32-page rulebook that effortlessly conveys the gameplay rules for characters ranging from levels 1-5. 

Character Selection:

Choose your hero from a list that includes a faithful dwarf cleric, an elf wielding potent arcane powers, a stealthy halfling rogue, or a valorous noble fighter. 
Dungeons & Dragons Essentials Kit
Embark on a thrilling excursion into the D&D with the comprehensive Essentials Kit. This kit serves as an ideal companion for both fledgling and seasoned Dungeon Masters as they journey to protect Phandalin from Cryovain, a chilling young dragon who now threatens the peace of the Sword Coast.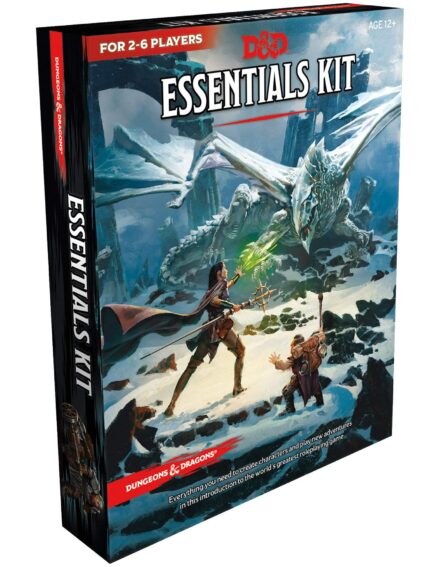 Digging into the Essentials
Dragon of Icespire Peak Adventure Book:

Discover the extensive information about locations, quests, and monsters, along with an in-depth profile of Cryovain—a fierce, frosty dragon terrorizing Phandalin. Your mission? Safeguard the town, discover mystical equipment, and slay the dragon.

DM Screen:

Conceal your mysterious plans from your players.

Character Creation:

Blank character sheets are provided with a set of 11 dice.

Bonus Inclusions:

Poster maps, magic item cards, and other inclusions.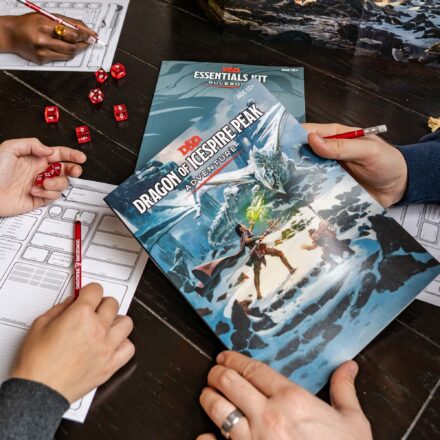 The Essentials Kit is a unique offering that also includes two-player rules, a welcome addition for games featuring one player and the DM. 
D&D Starter Set: Dragons of Stormwreck Isle
Navigate the intriguing depths of Stormwreck Isle, a place bustling with secrets potent enough to alter the perceptions of even the most weathered adventurers.
Experiencing Stormwreck Isle:
Adventure-Ready Characters Levels 1–3:

"Dungeons of Stormwreck Isle" plunges players into the midst of an ancient war between dragons on an unexplored island, a battlefield of a timeless conflict.

Personal Character Quests:

Each pre-created character comes packed with a personal goal that shapes their experience and fuels their actions during play.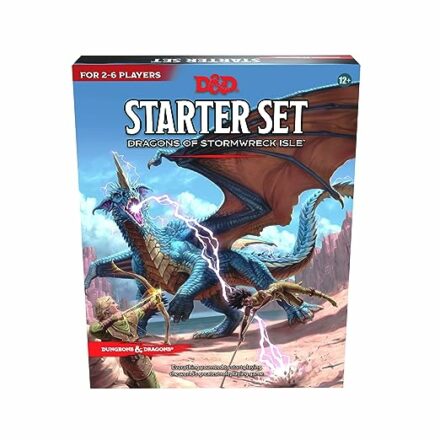 Stormwreck Starter Set: What's Inside?
Rulebook

: A comprehensive overview of the essentials, including adventurer's equipment and a compilation of 30 diverse spells for creating magical antics.

Adventure Booklet:

The set's heart is the adventure booklet packed with tips for running the game, maps, location descriptions, monster statistics, and information about magical items.

Character Sheets:

Enter the realm as a cleric, fighter, paladin, rogue, or wizard with our five pre-created character sheets, all set for action.

Dice Set:

Rolls some numbers using the starter set comprising the six dice types necessary for a D&D game — 1d20, 1d100, 1d10, 1d8, 1d6, and 1d4.
Stranger Things Dungeons & Dragons Starter Set
Embark on a thrilling adventure, combining the D&D universe with the intriguing world of Netflix's Stranger Things. Battle through the Upside Down as iconic characters from the show, and unravel mysteries with the adventure book penned by the character Mike Wheeler.
What's Inside The Box?
Rulebook: This Stranger Things-themed guide contains all fundamental rules required to explore the 5th edition D&D starter set.
Adventure Book: An informative booklet filled with game tips, map illustrations, descriptions of locations, and details about magical items and monsters.
Character Sheets & Dice Set: Choose from one of five pre-made character sheets to role-play as in your adventure. Also includes six standard dice types necessary for a D&D game.
Demogorgon Figures: Two Demogorgon miniatures, one of which can be customized with paint, immerse players into the Stranger Things narrative.
This uniquely designed Starter Set, replicating the 1983 D&D red box seen in the series, has everything a group needs to play. Suitable for those new or familiar with D&D, it's a perfect fit for fans of Stranger Things.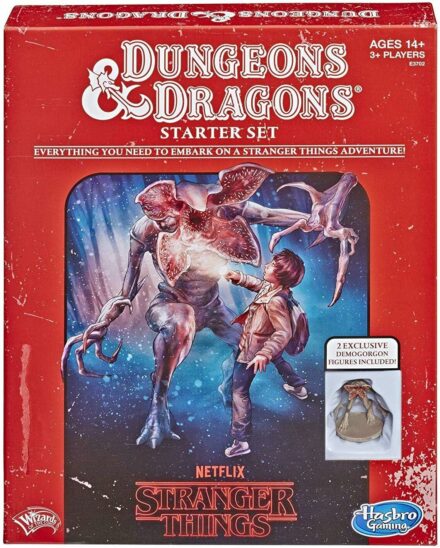 Selecting the right equipment for your Dungeons & Dragons campaign can dramatically influence your gaming experience. Each Starter Set provides a distinct pathway to the fantastical realm of D&D. Whether it's entering the perilous universe of Stranger Things or exploring the clandestine corners of Stormwreck Isle, there's a journey waiting for every aspiring adventurer. Arm yourself with comprehensive knowledge about each set to find the perfect entry point into your grand D&D saga. Regardless of the path you choose, remember – every game marks the onset of a thrilling adventure, an exhilarating journey into the enchanted realm of fantasy and wonder.