Hollywood Haunted Sports is a yearly event held at the Hollywood Sports Park in Bellflower, Califorinia. The event features:
– Two scare zones: Carnival of the Damned and Outpost Z
– Three killhouses: Zombie Killhouse, Voodoo Killhouse, and Deadman's Trail Killhouse
– Three walkthrough mazes: Cannibal Caverns, All American Armageddon, and Venom
– Evil Axis Shooting Range
– Suicide Rock climbing wall
– Club Crimson 18+ Vampiric Nightclub
– Group E-Photo Booth
—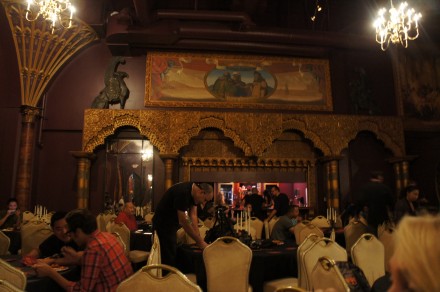 I was recently invited to the Media Day for Haunted Hollywood Sports. After a brief wait outside, followed by registration and a gift bag, the media personnel were guided into Club Crimson, a Gothic-inspired dining hall and club. Refreshments were served, including, most notably, large syringes full of red Jello shots. The design and atmosphere was top notch, and really invoked the vampiric intent of its namesake.
It was after the refreshment period that the event began in earnest. The coordinators introduced themselves and their contributions and the history of the sports park, the history of Hollywood Haunted Sports, and what activities to expect at the Media Day. The speech was interrupted by a staff member in full tactical gear alerting us to a disturbance, followed by the monsters bursting into the hall. Demented clowns and carnival folk, horrific creatures, and a very persistent zombie flooded into the crowd of tables until more staff in gear with weapons chased them out into the main area.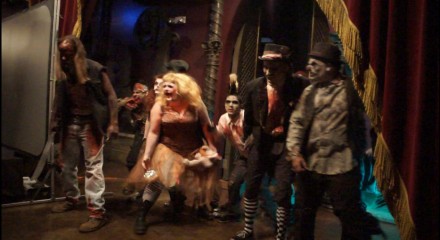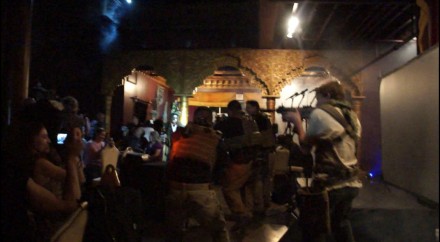 After waiting a bit longer, we were ushered outside in groups based on the color of our press passes; my guest and I were blue, so we went out first. We were escorted by a guide brandishing an airsoft weapon and full gear. The path to the attractions was dark and had a carnival motif, at least elements of the 'Carnival of the Damned' scare zone if not the entire thing. The aforementioned clowns and carnival workers surrounded us, scraping weapons across the ground and shrieking at our group; I though it was really enjoyable and a bit unnerving.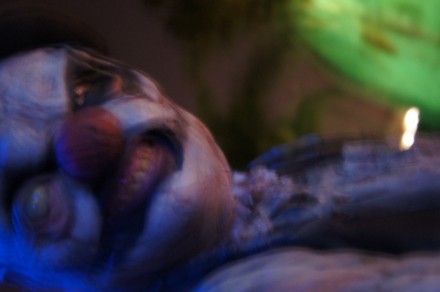 Through here we were herded into the 'Venom' walkthrough maze, fashioned as an ancient temple full of monsters and snakes. It was quite dark; what light there was came mostly from strobe lights, paired with fog designed to disorient and hide any surprises waiting within. It took about 10 minutes to get through, with frequent scares and disturbing sounds and audio found throughout. I don't do a lot of Haunt-style activities, but I really enjoyed this one. There was one lizardman who was clearly wearing a mask and would have benefited from blackening his eyes, but the man brandishing machetes, the gas mask goons, and other horrors made up for that one disconnected moment.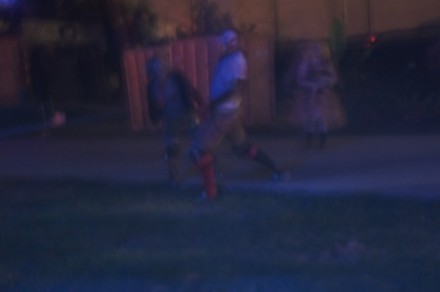 The event open to us was the 'Zombie Killhouse'. After a brief introduction and some flavor story, we were issued safety masks and airsoft G36s, and sent out to slay the undead. We kept together as a group, rushing through area after area as we shot at the zombies populating the outward graveyard. The weapons were configured to only fire in semi-auto, and with a 50-round capacity there were plenty of shots although my own gun did jam a couple of times. While it wasn't as tense as the maze, since you were armed and in a group, it was arguably more fun, if only for the increased interactivity.
Overall, I was very satisfied with the sampling of the event we were allowed access to. My only regret is I'm not present to see what other thrills the HSP team has cooked up for the rest of Haunted Hollywood Sports. Coincidentally, today is the first official day of the event, which runs every Friday and Saturday in October, so if you're in or near Bellflower, CA then give HHS a visit. It's fun, it's scary, and you get to shoot at zombies with an airsoft gun; what's not to like?
www.giantsportzoutlet.com/shop/haunted-hollywood-sports
A very special thanks to paxtondesignstudios for their work on the event and for inviting me out.