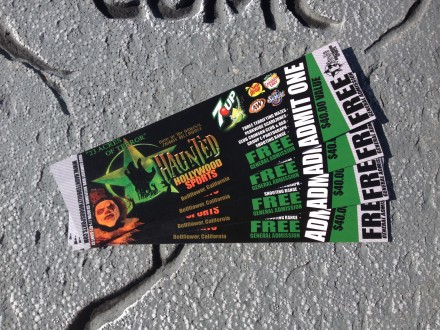 As part of the Hollywood Haunted Sports media day, each attendee was given four complementary passes to the HHS event. As I am physically incapable of attending, I am giving all four tickets away to one lucky reader. Since the event is specific to California, preferably a reader living in or near* Bellflower, CA, so they and three other family members/friends/acquaintances/frenemies/etc. can enjoy themselves in my place. The tickets are good for every following Friday and Saturday in October, as well as Sunday the 27th and Thursday the 31st.
*near in this case being whatever you as an individual deems the acceptable maximum travel distance to attend this event.
Rules
– In the comments section of THIS article on TFB (and nowhere else) leave a comment on your favorite trick or favorite treat.
– Contest ends at 1600 Zulu on Tuesday, October 8th. The comments will be closed at the deadline.
– Use any nom de guerre you desire but use your real email address as we will use it to contact the winners to request your shipping address; one entry per email, please.
– USA residents only.
– Void where prohibited.
www.giantsportzoutlet.com/shop/haunted-hollywood-sports-c-1_17_58.html