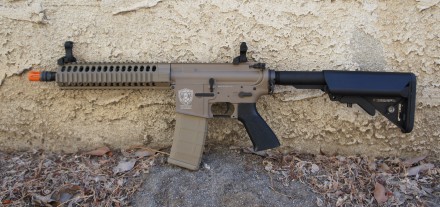 The AEX Warfighter AX is designed to mimic the latest in combat rifle design. It features a continuous upper rail design with a mock 'gas piston' system and flip-up front and back sights. The receiver is full metal with a one piece outer barrel. The gearbox is built with 9mm bearing bushings, steel high torque gears, high strength polycarbonate piston, and a quick change spring system. The AEX Warfighter AX also comes with a high capacity magazine, one point sling mount, and collapsible crane stock.
– Length: 27.5″ – 31″
– Weight: 6 lbs
– Inner barrel length: 300mm
– Inner barrel diameter: 6.03mm
– Caliber: 5.95mm
– Velocity: 375-385 fps (.20g BB)
Available in both Black and Dark Earth.
www.airsoftextreme.com/store/index.php?main_page=product_info&cPath=364_712&products_id=7517