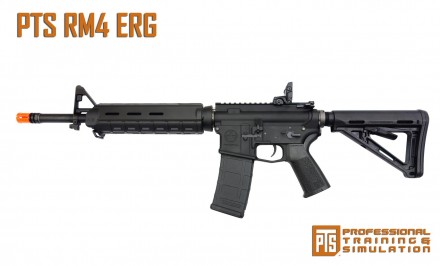 The PTS RM4 ERG series represents the continued evolution of the AEG. The guns feature a mechanical/electrical cut-off with the last round fired, functional bolt release, and simulated recoil via the proprietary Kinetic Feedback System.
The included ERG PMAG is specifically designed to work with the auto cut-off system, and can be adjusted for either a 60 or 30 round capacity for added realism. Standard AEG magazines are also compatible with the RM4 ERG guns, although the auto cut-off feature won't be active with these.
Further adding to the realism of the RM4 ERG series, the guns sport an all metal billet-style AR-15 receiver, flip-up rear PTS MBUS, fixed front sight post, PTS MOE handguard, PTS MOE pistol grip, and PTS MOE Stock.
The model seen in the images, and currently available, is the Scout; a CQB variant will be released at a later date.