Brett Favre Hosts New Multi-Part Series on GetZone.com
July 19, 2018 (COLORADO SPRINGS, Colorado) — As a lifelong outdoorsman wishing to share his reverence of the outdoors, NFL Hall of Fame Quarterback Brett Favre, began an organization called 4Outdoors to provide meaningful experiences in the outdoors to people in need. Given his background and interest in the shooting sports, USA Shooting recently selected Favre as one of their honorary Team Captains. In a new, multi-part series airing on GetZone.com titled "USA Shooting Presented by 4Outdoors," show host Favre talks with Olympic and Paralympic athletes about their struggles, victories, and the importance of raising awareness and funds for USA Shooting's athletes.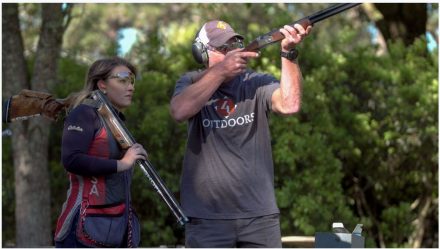 In the premier episode of "USA Shooting Presented by 4Outdoors," Favre shoots clays and talks with two-time Olympic bronze medalist Corey Cogdell-Unrein where he learns, "A lot of people don't know shooting is one of the most expensive Olympic Sports. People think that we're funded by the government…and that's just not the case," Cogdell says. "I've watched so many of my teammates struggle, and scratch, and fight to pay just their training expenses, and go in debt financially to pursue this sport. I've thought, how good could we be if we had the funding that we needed? It's such a great sport, and we just need your help," she said.
Throughout the "USA Shooting Presented by 4Outdoors" series, several episodes will be hosted by Favre as he interacts with Olympic and Paralympic USA Shooting athletes including Cogdell-Unrein as well as 2016 pistol Paralympian Marco De La Rosa and 2016 Paralympic rifle bronze medalist McKenna Dahl.
Together, they conduct shooting drills, and share tips and tactics on the range. Each episode features a sponsor's products including pistols, shotguns, rifles, etc., and encourages viewers to consider donating to USA Shooting to help American shooting athletes win gold. McMillan Firearms stepped up as one of the first major sponsors for this series, and will be featured in an upcoming episode of the "USA Shooting Presented by 4Outdoors."
According to Favre, "Raising awareness for our Olympic and Paralympic athletes and their individual journeys is an important component of our mission at 4Outdoors. In addition to helping at-risk youth, Veterans, people with disabilities, victims of natural disasters, and people who are simply dealing with difficult issues life has thrown at them, "we're glad to help our fans appreciate what organizations like USA Shooting provide to the shooting sports community and to the athletes that represent us in competition," he said.
"Can you remember that first time nature took your breath away?" asks Favre. "Can you remember the first fish you ever caught, the first trail you ever hiked, or the first time your own family dog came running across the backyard when you called? That rush is unforgettable, and we feel whole when we get out there. At 4Outdoors, nothing is more important than ensuring that everyone, regardless of status, ability, or circumstance is part of the great, wild, welcoming world we call home," stated Favre.
"The 4Outdoors program is all about encouraging outdoor-related sports and activities, and fostering our next generation," Favre said. "We believe getting people outside helps them grow, which is why we have committed ourselves to fostering connections in, with, and around the great outdoors."
Episodes of "USA Shooting Presented by 4Outdoors" are now streaming on GetZone.com. The new show is distributed exclusively by Media Lodge. Media Lodge is the Outdoor Industry's largest content production and digital distribution platform including owned websites, exclusive websites, social media, and third-party syndication.
"We have athletes in real need and we appreciate Brett, 4Outdoors, GetZone.com and Media Lodge for recognizing what the stature of USA Shooting should be within the outdoor and shooting industry and then creating content that can help showcase our need for support," said Keith Enlow, CEO of USA Shooting. "By capturing the story and drive of our athletes, this series projects exactly what we're all about and that's finding any way possible to get these athletes on the podium and represent the shooting industry."
"We are honored to connect our 40 million Media Lodge users with an amazing organization like USA Shooting," states Jeff Siegel, Media Lodge CEO. "This video series features compelling stories of remarkable athletes. We're proud to shine a light on their organization and hope to raise awareness and funding for their sport."
For details on how you can help USA Shooting and its Olympic and Paralympic athletes by making donations to USA Shooting, please visit usashooting.org/donate.