DELRAY BEACH, Florida – (October 2, 2019) – Century Arms is proud to introduce the newest addition to the already impressive Canik line of handguns. The TP9 Elite Sub Compact (SC) is a concealable, lightweight, reliable, double stacked, striker-fired polymer pistol. This pistol comes chambered in 9mm and features a 12 round standard capacity, while still being easily concealed at an impressive 1.45" width and 6.70" overall length. This pistol capitalizes on all of the amazing features the Canik brand has become known for while adapting to the needs of the discreet firearms owner.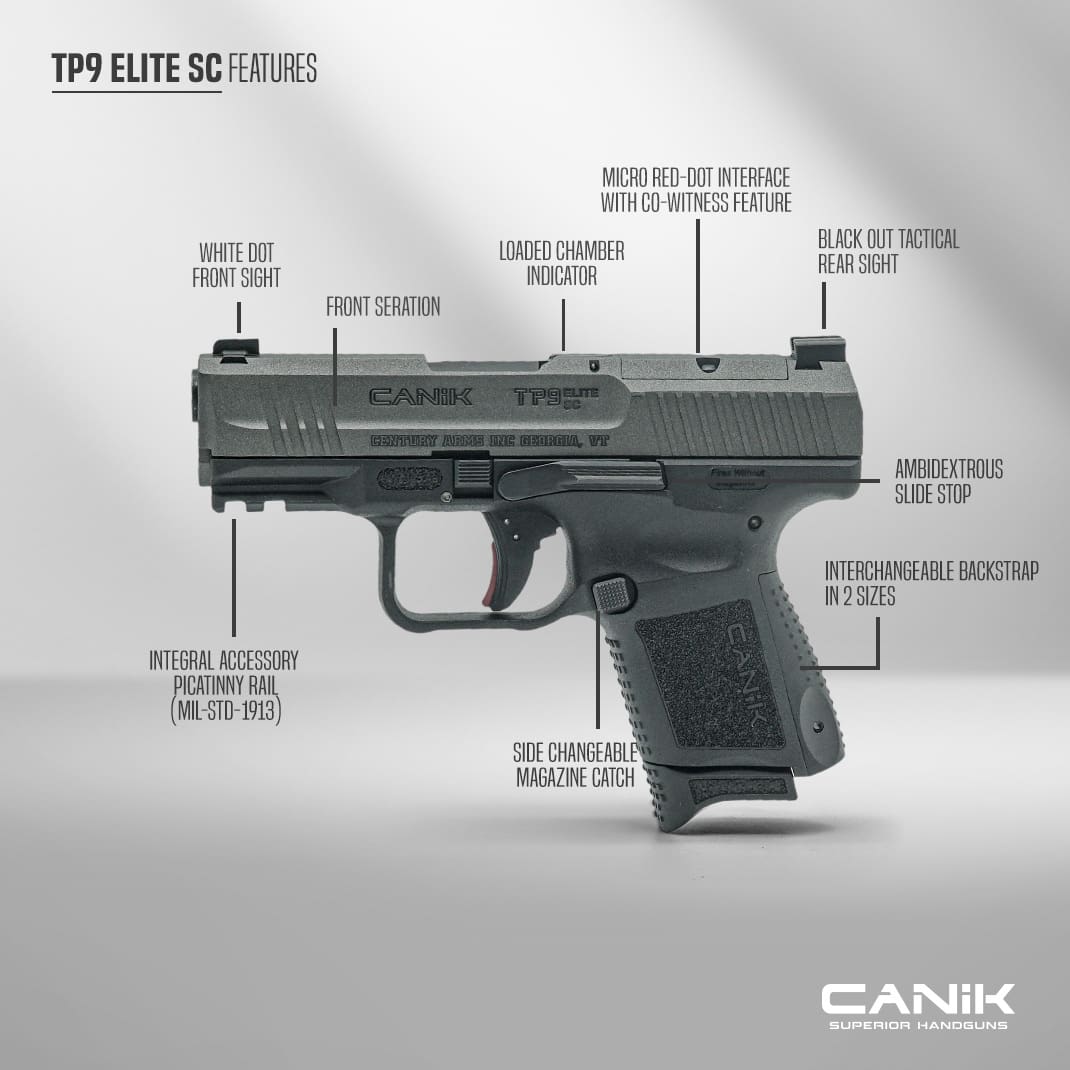 "The demand for a reliable, double stacked, concealable handgun, at a price point the blue-collar American could afford without sacrificing quality or comfort was a challenge the Canik team accepted head-on! We are proud to say that the TP9 Elite SC is exactly that, a superior handgun," said Adam Ruonala, Century Arms National Director of Marketing. "This firearm was designed with the sole intent of being an everyday carry for everyone from the Law Enforcement officer as a back up, to the private citizen who wants the peace of mind in knowing the capacity and functionality of the pistol is top of the line."
The 3.60" barrel is the optimal length designated by Canik's trusted engineers to ensure top tier accuracy out of the 4.60" tall TP9 Elite SC. The weight comes in at a minuscule 24.78 ounces which results in an effortless carry. The nickel-coated internals results in the smooth functionality that the Canik line has become internationally known for.
The features of the TP9 Elite SC far exceed the basic subcompact details. The firearm comes standard with a tungsten slide and black frame, micro dot optics ready slide mount allowing co-witness with iron sights, a loaded chamber indicator, ambidextrous slide release, reversible magazine release, white dot phosphorous front sight and black out rear sight for easy low light target acquisition.
The TP9 Elite SC offerings do not stop at the above-mentioned facts. Every pistol also comes standard with a new subcompact holster that has the ability to mount either for an inside or outside the waistband carry. Each pistol comes with a 12 and 15 round magazine. The new Canik designed 15 round magazine features a grip extension module that allows the shooter to operate this firearm as a compact, giving the operator a multi-purpose pistol tunable to an ever-changing day to day landscape. The TP9 Elite SC has an MSRP of $429 and is available now.
Canik has already begun the process of creating a large number of accessories and add-ons that will soon be available to the US market. These additions will be available directly from Canik and will feature the same quality and dependability as the pistols themselves.