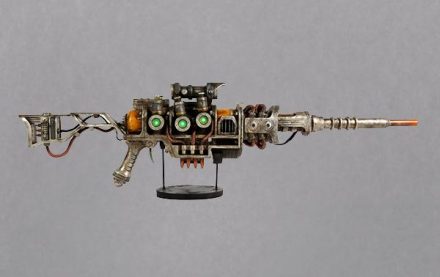 Chronicle Collectables has partnered with Bethesda Softworks to offer a series of 1:1 scale replica models based on weapons featured in Fallout 4, one such weapon being this Plasma rifle replica. Created from Bethesda's 3D game assets, the Plasma Rifle features dimensions of 45″ x 6″ x 13″, and weights approximately 10 lbs. It features LED lights on both slides, with the trigger functioning as the on/off switch.
Those familiar with Fallout 4 will remember that the weapons in that game are highly-customizable, with a large variety of parts that directly affect how the weapon looks and performs. Unfortunately, this model doesn't share that modularity, however the product page claims various modulations of the Plasma Rifle will be made available through GameStop specifically, so be on the lookout for those if the base model shown doesn't do it for you.
This is a pre-order item, and is expected to ship December of this year.
Also on offer are a Plasma Pistol, Super Sledge, and Power Fist.