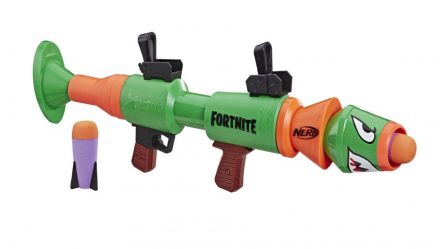 While the excessive popularity of Fortnite escapes me, I do appreciate any cool dart blasters that come out to the market. And this clearly RPG-7 inspired Fortnite Rocket Launcher from NERF certainly fits the description of "cool dart blaster".
Modeled after the rocket launcher in the game Fortnite, but more brightly colored and less detailed than the in-game model to better establish itself as a toy, this particular blaster is pump action and fires large NERF foam rockets, two of which come with the blaster.
It's great to see another product in NERF's comparatively limited line of large projectile blasters, and whether it's kept as is, or customized with a paint job to better match the look of its name sake, this would be an awesome addition to any NERF war.
The Fortnite Rocket Launcher NERF Blaster is available from various NERF retailers.