Posts Tagged 'Judge Dredd'
Saturday, June 22nd, 2019
Here's a classic thrash metal track from Anthrax, inspired by everyone's favorite Mega City law bringer: Judge Dredd.
Saturday, February 18th, 2017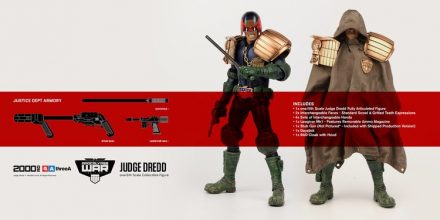 In commemoration of the 40th Anniversary of 2000 AD, 3A Toys and 2000 AD have partnered up to produce a Special Edition 1/6 scale Judge Dredd figurine based on the Apocalypse War storyline. As appropriate for his portrayal in the storyline, the Judge Dredd figurine comes complete with a RAD Cloak with Hood, Daystick, Lawgiver Mk1 w/ removable magazine, and Stub Gun.
The figure stands 12.3″ tall, with 29 points of articulation, and features 2 interchangeable faces and 4 sets of hands. Currently available for pre-order with a projected shipping date 4th Quarter 2017.
www.bambalandstore.com/ProductDetails.asp?ProductCode=dreddapwar
Sunday, March 13th, 2016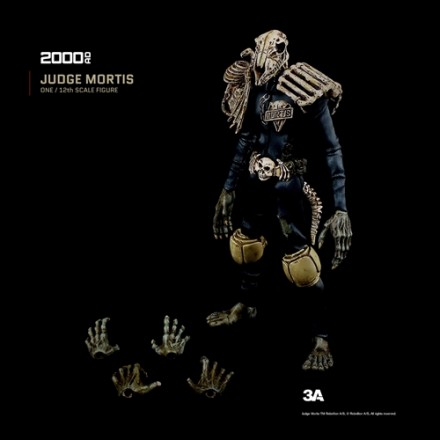 Bambalandstore is currently offering a pre-order for a 1/12 scale collectable figurine of Judge Mortis, one of the Dark Judges from the Judge Dredd comic series. The figure comes in at 6.6″ tall, fully articulated, and complete with a faux-leather tattered outfit and 3 pairs of interchangeable sculpted hands.
www.bambalandstore.com/ProductDetails.asp?ProductCode=000000000000002adjm