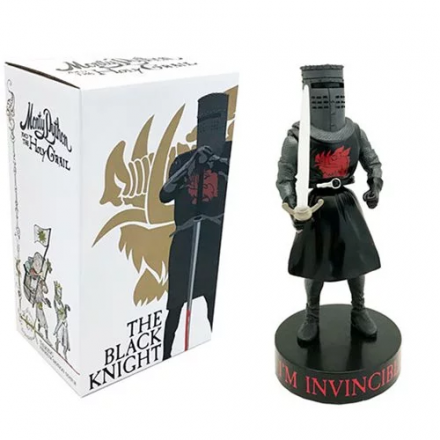 Much beloved and endlessly quoted, Monty Python and the Holy Grail is a favorite film of mine, and I'm sure many of you readers share that sentiment. Which is why it's totally worth bringing up this Holy Grail Black Knight talking motion statue. Coming in a 7.5″ tall, the Black Knight has removable arms (sadly/thankfully without the comical blood spray), and speaks 10 phrases straight from the film:
"Tis but a scratch"
"I've had worse"
"Ohh, ohh I see, running away ehh?… you yellow Bastard!"
"Come back 'ere and take what's coming to you… I'll bite your legs off!"
"s'alright, we'll call it a draw"
"It's just a flesh wound"
"Have at you!"
"I'm invincible!"
"I move for no man!"
"None shall pass, none shall pass!"
As good an addition to your collectables shelf or work table as any.
Available for pre-order from EntertainmentEarth, with a release date of January 2020.