Exclusively available on Pyramyd Air, LE Tanks will provide up to 14 years usable life; $200 savings over new carbon fiber fill sources
Cleveland, Ohio (June 11, 2018) Pyramyd Air, the world's largest internet airgun retailer in conjunction with Digital Wave Corporation, a leading authority of modal acoustic testing, is pleased to announce the release of Life Extended SCBA tanks for use with precharged pneumatic airguns. Using groundbreaking technology, each expired tank is rigorously tested and restored to Department of Transportation (DOT) standards, extending each tank's usable life, providing years of dependable service, and presenting a low-cost gateway for PCP airgunning.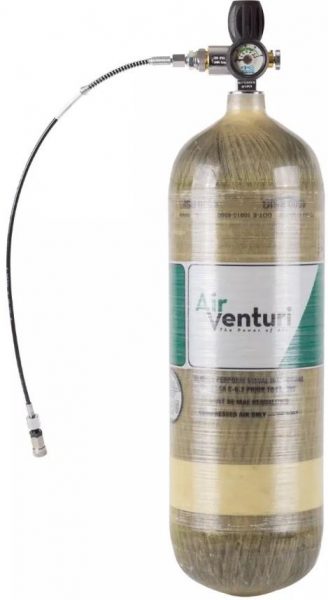 "This is very exciting news for PCP airgun owners and those who are thinking about getting into precharged pneumatics." says Val Gamerman, President of Pyramyd Air. "In the last few years, PCPs have come down in price, but the cost of fill sources has remained high. This exclusive partnership means that airgunners can now purchase higher capacity carbon fiber tanks for less than the cost of smaller systems and save up to $200 on some models."
Using end-of-life tanks collected from fire departments across the country, Digital Wave subjects each tank to a series of demanding tests that include a visual inspection, ultrasonic cleaning, and Modal Acoustic Emission (MAE) tests to reveal any compromise in the cylinder. Once passed, end-of-life cylinders are given a new expiration date and a new life in the hands of PCP airgunners.
Mark E. Anderson of Digital Wave Corporation said of the collaboration, "Being an avid air gun enthusiast myself, I knew that buying a brand-new carbon fiber cylinder was an expensive purchase. Digital Wave is excited to work with Pyramyd Air to give airgunners a new cost-effective carbon fiber pressure vessel alternative via the Air Venturi LE cylinders".
Life Extended Air Venturi cylinders are currently available on Pyramyd Air in 30 minute (45 cu ft), 45 minute (66 cu ft) and 60 minute (88 cu ft) options that include new DIN 300 valves and fill hoses with female quick disconnect couplings. Assorted sized tanks, with up to 14 years life remaining are available for purchase immediately on PyramydAir.com. Additional resources are available on PyramydAir.com for those looking to learn more about MAE testing and Life Extended tanks.