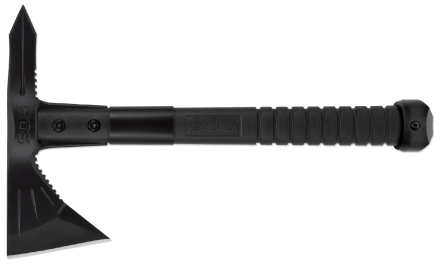 SOG's Voodoo Hawk Mini is, as its name implies, a smaller version of the original Voodoo Hawk. How much smaller? Well, admittedly not majorly so:
Length: 12.5″ (Mini) vs. 12.56″ (Voodoo)
Blade: 2.75″ (Mini) vs. 3.5″ (Voodoo)
Weight: 23.10 oz. (Mini) vs. 28.50 oz. (Voodoo)
Still, it is measurably more compact, and with the same general design and material composition, just as functional and durable as the original.
Plus, the Voodoo Mini is about a sawbuck less expensive than the original Voodoo, and like its big brother comes with a nylon, snap closure sheath.
https://www.sogknives.com/voodoo-hawk-mini-w-pommel-black.html