Wheelchairs for Warriors to Honor Combat Marine Injured and Amputated in War
Houston, Texas (September 28, 2018) – The mission to fit disabled and severely injured protectors with a mobility solution that fits their lifestyle and equip them for continued service to our Nation, continues. Wheelchairs for Warriors has identified their next deserving recipient.
Earlier this year they awarded an advanced wheelchair to Special Forces Green Beret Joseph "Joe" Lowrey of Ontario, California. He was shot through his helmet in Afghanistan in 2014 (during combat operations) from a high-powered rifle, which resulted in a traumatic brain injury and loss of the use of the left side of his body.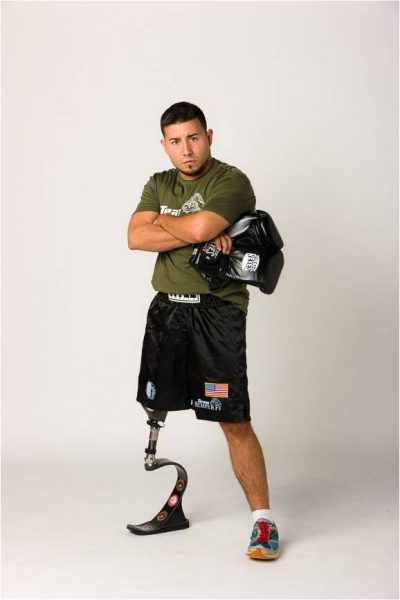 Wheelchairs for Warriors next mission turned to the Marines, thanks to Tejano Veterans of Houston, Texas.
We were introduced to Eric "Iron Fist" Morante, a United States Marine Combat Veteran who served 3 tours in Iraq and was injured along with 7 other Marines and a Navy Corpsman, when a suicide bomber detonated 3,000 pounds of explosive under a 15-foot section of bridge.
Sergeant Morante suffered a broken jaw and teeth, facial injuries, fractured wrist and his right leg was amputated, which has given him much discomfort given the limited options for movement of a very active Marine boxer who enters the ring as "Iron Fist" Morante. He currently gets by with a heavy and uncomfortable prosthetic leg and a pair of crutches.
An Interview with Eric Morante (USMC):
https://www.youtube.com/watch?v=lH41aDqmxh0 (12 :06 min.)
Wheelchairs for Warriors hero will be recognized and honored in Las Vegas November 7, 2018 at a red-carpet Producer's Choice Honors (www.ProducersChoiceHonors.com) event, which will feature many prominent music and entertainment stars, including board member Susan Giacona.
Wheelchairs for Warriors was founded to meet a unique need within the rescue and service community for those disabled in the line-of-duty, fighting for our country or rescuing people in harm's way, to include Combat Veterans, EMS, Firefighters, and Peace Officers.
Wheelchairs for Warriors provides custom-fit, complex, rehab mobility solutions designed for the warrior's specific needs: depending on their injuries and lifestyle. These wheelchairs can be operated by head, finger, foot, shoulder, puff of breath, eye movement, etc. The wheelchairs can elevate and recline providing comfort and access while also providing relief to pressure points. The adaptive machines are designed by Paul Morgan, their Complex Rehab Seating Specialist.
Wheelchairs for Warriors is currently seeking other wheelchair candidates across the nation.
To learn more about Wheelchairs for Warriors, apply, help someone to apply, and to join the mission, please visit: www.WheelchairsForWarriors.com