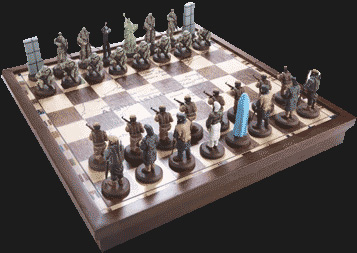 Jeffrey Train, former Master Corporal in the Canadian Army, came up with this series of chess sets, which showcase either American, British, or Canadian forces against Taliban or Iraqi Insurgents. Both sides feature the various classes of pieces in their own unique ways. For example, the American forces have 'American Assault Soldiers' for pawns, 'American Heavy Gunners' for knights, the World Trade Towers for Rooks, 'American Snipers' for Bishops, the Statue of Liberty for a Queen, and either George W. Bush or Barack Obama as the king. The chess sets can be purchased from Hedwig & Sergeant Major (click the image above) in these configurations:
Canadian VS Afghanistan Taliban Figures
American VS Afghanistan Taliban Figures
British VS Afghanistan Taliban Figures
American VS Iraqi Insurgent Figures
British VS Iraqi Insurgent Figures
A portion of the sales goes towards Canadian troops to help fund fun-runs and provide food for events in Afghanistan.
Hat Tip: The Star