Back in August, we featured a product called the VSSL. It is an LED flashlight with a large handle that is used as a survival canister.
The project is currently on Kickstarter with 8 days left to go. Originally, one of the configurations was a Zombie themed VSSL which would have included a spike head attachment. As it turns out, Kickstarter has a "no-weapons" policy, and forced the project team to remove that particular configuration from the offerings. Here is how they responded: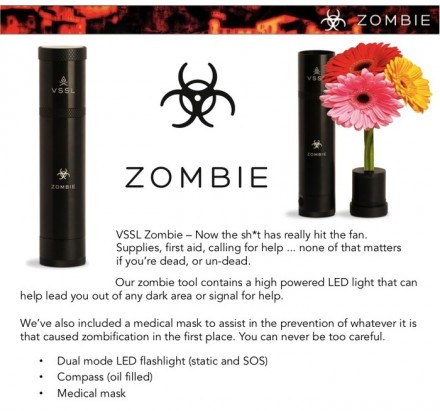 The Zombie VSSL features a black exterior, and comes with a dual mode LED flashlight, oil filled compass, surgical mask, and bouquet of flowers attachment head. Why (re)kill the undead when you can court them, right?
www.kickstarter.com/projects/toddweimer/vssl-outdoor-utility-tools
Tags: Kickstarter, VSSL