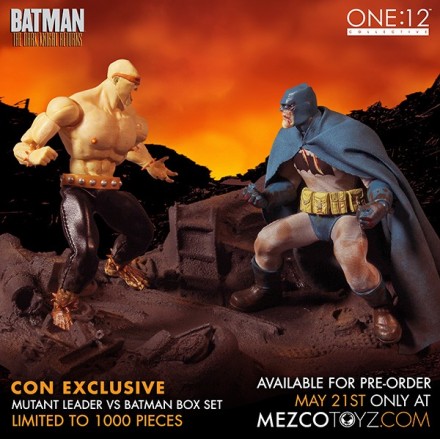 Depicting the battle between the Mutant Gang Leader and Batman in the iconic 'The Dark Knight Returns' by Frank Miller, this special set is limited to just 1000 pieces, and currently up for pre-order. It will also be sold at the upcoming San Diego Comic Con, so this is the only chance most of us will have to buy it.
The Deluxe Boxed Set contains:
– Battle Damaged Batman figure with an exclusive head sculpt, torn exclusive variant costume, alternate hands and exclusive "Knock-Out Foam" accessory designed to fit over his enemy's face.
– Exclusive "first look" Mutant Leader with a variant dirtied up paint application to enhance the realistic battle in the junk yard, alternate hands and crowbar accessory.
– A Polystone cold casted display base of the Gotham City Junk Yard, over 10 inches long with felt footing.
– Packed in a large, closed box with a specially die-cut slip cover and utilizing the One:12 Collective's collector friendly no- twist-tie packing method for easy in and out of box displaying.
www.mezcotoyz.com/static/the-one-12-collective-limited-edition-summer-exclusive-the-dark-knight-returns-deluxe-boxed-set