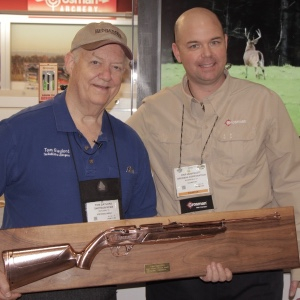 BLOOMFIELD, New York (January 26, 2016) Crosman Corporation, the world leader in the design and manufacture of air rifles and pistols, presented the William McLean Award to Tom Gaylord in recognition of his contributions to the sport of airgunning.
"Tom has written about airguns for over twenty years and his selfless interest in the advancement of the sport includes contributions to product development for several companies including Crosman, and the promotion of airguns through his articles," said Jennifer Lambert, VP of Marketing for Crosman.
The presentation was made in the Crosman booth at the Shooting, Hunting and Outdoor Tradeshow (S.H.O.T.) in Las Vegas, Nevada. The award's namesake, William McLean, is the inventor of the first Crosman air rifle which was produced and sold in 1923. McLean was regarded as an intelligent inventor, particularly in the area of firearms and airguns, and his contributions to the shooting sports endure today.
Gaylord was presented with a bronzed Crosman 760 Pumpmaster, a model that has sold over 17 million since it was introduced in 1966. "It's fitting that we can recognize the 50th year of the 760 with this acknowledgemnt of Tom's special place in the history of airguns," added Lambert.
Tags: Crosman