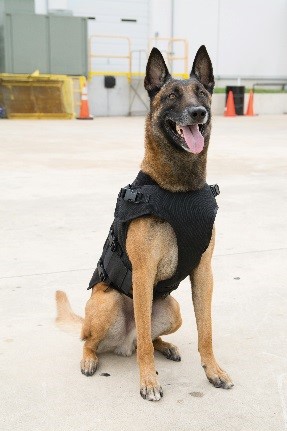 The refined carrier enhances protection and maneuverability for canine officers

Jacksonville, Fla. – Safariland today announced the all-new Protech® Tactical Bark-9™ carrier, the next generation of protection in canine tactical carriers. As the industry's best-in-class canine armor, the Bark-9 carrier is the first to meet the needs of police dogs for coverage, flexibility and maneuverability. Its contoured design allows for high-speed application and assaults vital for outperforming an assailant in high-threat situations.
The load-bearing carrier was redesigned to address the changing tactics of today's canine units to be compact and lighter weight. In recent years, some departments have transitioned from large dog breeds to smaller, athletic canines whose speed and physical techniques are critical for the challenges of the job.
"With the demand for canine officers increasing and threat levels at an all-time high, this top-of-the line carrier delivers the necessary protection with maneuverability," said Brian Santimauro, Category Director, Tactical Armor. "The Bark-9 tactical carrier was designed with the same passion and innovation as our products for the human officer."
The interior of the Bark-9 tactical carrier features 420-denier Cordura® diamond ripstop nylon for breathability and a comfortable fit. Reinforced stitching on the exterior of the 1000-denier Cordura® nylon carrier resists mission wear and tear, prolonging the life of the carrier.
Notable features include a high-profile hook, loop and buckle closure system, a restraint handle with D-rings for adjustable leash attachment and a modular webbing platform along the spine of the carrier for attaching video equipment. A detachable spine can be added to the back of the carrier to provide ballistic overlap with lengthened ballistic protection.
Integral to the company's product development process, the Bark-9 was distributed to several U.S. law enforcement agencies for wear-testing. This field input facilitated discoveries and design innovations to make this the next generation of tactical carriers for today's canine officers. The Bark-9's product testing, along with all Safariland gear, ensures that the company delivers the best performance possible.
The Bark-9 carrier is currently offered with four ballistic packages to accommodate various mission requirements and is available now with MSRPs ranging from $1,410.00 to $2,050.00, based on ballistics selection. The standard color offering is black, and other colors are available upon request. For more information, please visit www.safariland.com/protech-tactical.
Tags: Safariland