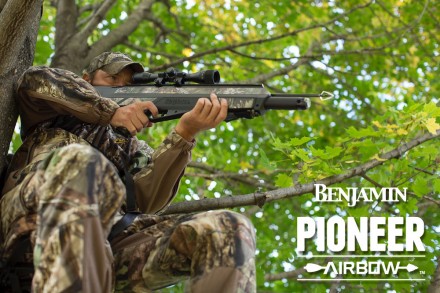 BLOOMFIELD, New York (JULY 25, 2016) Since its introduction in January, Crosman Corporation's Benjamin® Pioneer Airbow® has captured the attention of rifle hunters seeking a safe and efficient entry into the exciting world of bowhunting, and crossbow owners who are drawn to it for its safe and uncomplicated operation. The Archery Trade Association (ATA) recently issued a negative position statement on the Airbow® that contained misstatements about this revolutionary hunting weapon.
Contrary to what the ATA has stated, Crosman Corporation does pay the required excise tax that goes towards conservation efforts supported by Pittman Robertson funds. Although pneumatic weapons are currently exempt from this tax, the arrows used by the Airbow® are subject to the tax. Additionally, because Crosman wants to support conservation efforts along with firearms manufacturers and other archery companies, Crosman is proactively pursuing the removal of the tax exemption for certain large bore pneumatic weapons, including the Airbow®.
The Airbow® may not meet the ATA's definition of "pure" archery equipment; however, hunters that currently use archery weapons and firearms continue to petition their state wildlife and legislative leaders to make it a legal alternative to use in their preferred seasons. Consumers are drawn to the Airbow® because its performance compares closely to, if not exceeds, most crossbows. Furthermore, both consumers and state officials that have experienced the capabilities of the Airbow® firsthand recognize it as a safe alternative to crossbows.
Professional hunter Jim Shockey stated it best in explaining his support of the Pioneer Airbow®:
"Despite equipment innovations over the years, we hunters have learned to coexist. I believe we've become more accepting of each other, no matter what type of hunting tool we choose. And this is a good thing for the future of our hunting heritage. As hunting equipment manufacturers have innovated, the hunting market has grown, more people have jobs in our industry, and wild places and wild animals are better off. More hunters mean more dollars for wildlife conservation."
Two hundred years ago an airgun helped lead the expansion of the West as part of the Lewis & Clark Corps of Discovery expedition. Today, Crosman Corporation continues the exploration of new territory with pneumatic power and the Airbow® is leading the way.
For more information on the Benjamin® Pioneer Airbow® please visit benjaminairbows.com. For up-to-the-minute news from Crosman Corporation, follow us on Twitter (@crosmancorp).
Tags: Crosman