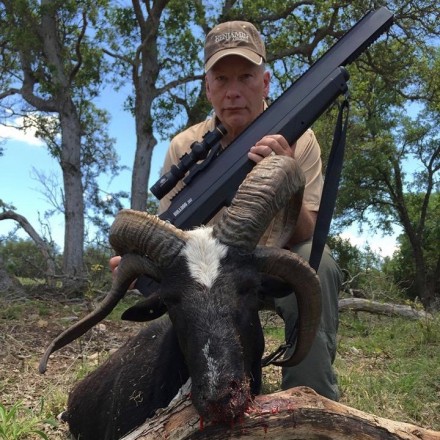 BLOOMFIELD, New York (SEPTEMBER 16, 2016) Les Bear Chase, prostaff for Benjamin, the premiere hunting brand of Crosman Corporation, was awarded his third consecutive Compressed Air Gun Hunter of the Year Award at the annual Trophy Game Records of the World banquet on July 23. He also placed in the top five for Exotic, Sportsman, and overall Hunter of the Year Awards. This now completes the use of airguns in taking 19 different big game species, with 14 of them World Records. On hand to present the award was Mr. Bobby Love, President of United Hunting Heritage International, and Razor Dobbs of "Razor Dobbs Alive" on Sportsman Channel.
Chase was also the featured speaker of the event. His presentation on Big Game Hunting with Air Guns provided the audience an overview of today's large bore air guns and their capability on big game.
Les was presented 10 plaques for eight Top Five entries including three new world records (Red Sheep. Asian Sika, and Watusi), and completing the Texas Slam and Texas Sheep Slams. He received awards for record Fallow Deer, Catalina Goat, Wild Boar, White Corsican and Four Horned Sheep. He also placed in the Top 5 for Sportsman and Exotic Hunter of the Year.
Since 2014 Chase has logged 19 different species and 14 TGR world records, all with a Benjamin airgun. Chase hopes to complete the Exotic Slam with the successful pursuit of a Gemsbok and Addax with an airgun. He earned Airgun Hunter of the Year in 2014 and 2015.
Tags: Crosman