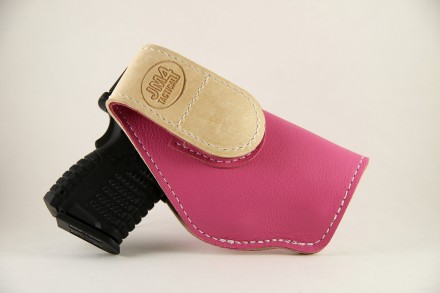 (For immediate release) October 11, 2016.
Chad and Shawndalyn Myers, owners of JM4 Tactical, are very proud to introduce to you the Pink (QCC) Quick Click and Carry Holsters to benefit The American Cancer Society. JM4 Tactical is joining the fight against cancer and will donate a portion of the proceeds from every pink holster sold.
With each Pink QCC you purchase you will have a chance to win a custom made ladies leather western belt made from the JM4 Collection in your choice of black or brown. The belt buckle and conchos were a limited edition item manufactured over ten years ago. Now you have a chance to get your hands on a belt made from one of the last known buckle/concho combos available making it a true one of a kind. Your name will automatically be entered for every Pink Holster you purchase. To be entered, orders must be placed by midnight CST, November 11th 2016 and the drawing will the held Thanksgiving Day, November 24th, 2016.
Each Pink QCC Holster comes in small, medium, large, extra large and J-Frame. Each size fits a variety of guns.
JM4 Tactical is owned and operated by Chad and Shawndalyn Myers of Abilene, Texas. Chad has a history in production and is a former United States Marine. Shawndalyn has a background in office management and finance.
JM4 Tactical prides itself in customer service and integrity. All JM4 products are proudly made and manufactured in the USA. Please check us out at jm4tactical.com.