Vernonia, OR – TNW Firearms, a market leading designer and manufacturer of modern and historical firearms, has introduced their Aero Survival Pistol with a factory installed SB Tactical™ arm brace and an extended handguard. Like all Aero Survival firearms, the Braced Aero Survival Pistol is a takedown firearm for the ultimate in portability, making it the perfect emergency survival pistol for outdoor enthusiasts, ranchers, pilots or anyone who needs a portable, rugged and reliable semi-automatic pistol. The addition of the SB Tactical™ SOB™ arm brace adds versatility and stability to this already capable firearm. These new Braced Aero Survival Pistols are available with a new 10.25" barrel and handguard.

Similar in appearance and manual-of-arms as an AR pattern pistol, the ASP is an original design engineered to be more compact than similar AR type pistols. Portable, lightweight, easy to carry and rapid firing, this take-down pistol uses Glock pattern magazines. Blowback operated for simplicity and reliability, the Aero Survival Pistol has both an upper and lower receiver machined from 6061-T6 aluminum. The ASP is available finished in hard coat anodized black, dark earth, OD green and two variegated finishes, Tiger Pink and Tiger Green. The safety is a familiar cross-bolt push button safety easily manipulated by the trigger finger. One 10rd magazine is included.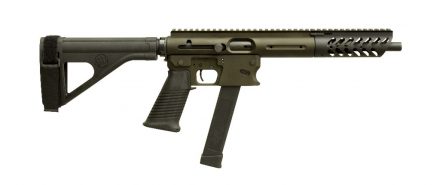 Centerfire Aero Survival Pistols are available is in 9mm Luger, .357Sig, .40S&W, 45ACP and even the powerful 10mm, all using Glock pattern magazines. Rimfire versions also available in 22lr and 22WMR and use Remington 597 magazines. The removable barrel and easily convertible caliber changes allow the shooter to switch between similar cartridges with nothing more than the change of a barrel and bolt assembly.
Now available with an MSRP of $899, the new Braced Aero Survival Pistols gives shooters a portable, easy to handle pistol perfect for casual shooting, hunting or emergency situations.
Barrel length: US 10.25"
Overall length with Barrel: US 24.75″
Breakdown dimensions with barrel removed: US 18.5"
Centerfire Cartridges: 9mm, .357Sig, .40S&W, 10mm, .45ACP
Rimfire Cartridges: 22LR, 22WMR
Magazine configuration: Centerfire – Glock pattern, Rimfire-Remington 597
Left or right handed ejection
Weight with barrel: 6lbs with the 10.25" barrel
Coating: Hard Anodized
Action: Semi-automatic, direct blow back
Safety: Sliding safety and integrated child trigger lock
Tags: TNW Firearms