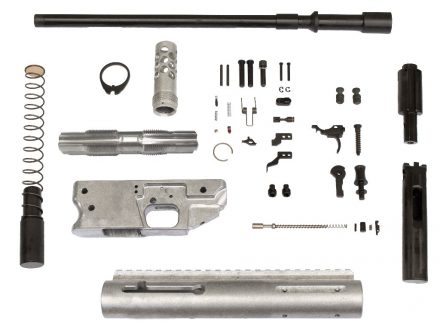 Vernonia, OR – TNW Firearms, a market leading designer and manufacturer of modern and historical firearms, has introduced their Aero Survival Rifle and Aero Survival Pistol in a Homebuilders Kit. Like all Aero Survival firearms, the completed kit is a takedown firearm for the ultimate in portability, making it the ideal emergency survival gun for outdoor enthusiasts, ranchers, pilots or anyone who needs a portable, rugged and reliable semi-automatic firearm. The Aero Survival Homebuilders Kit is perfect for any firearms enthusiast who wants the satisfaction of legally building their own firearm for personal use.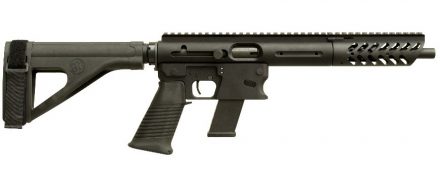 The Homebuilders Kit comes with an ATF approved 80% upper receiver tube that needs to be completed, but all of the other included parts are finished and ready for assembly. Detailed drawings and instructions to finish the 80% receiver tube and an exploded view of all the parts need to assemble the lower are included. The Rifle Homebuilders kit includes a 16.25″ barrel, The Pistol Homebuilders kit comes standard with an 8″ barrel. A 10.25″ pistol barrel is available upon request. The Aero Survival Rifle accepts standard AR15 butt stocks, buffer tubes and pistol grips which are sold separately. The TNW Handguard and handguard adapter are also sold separately.

Similar in appearance and manual-of-arms as an AR pattern rifle or pistol, the Aero Survival Firearm is an original design engineered to be more compact than similar AR based designs. Portable, lightweight, easy to carry and rapid firing, this take-down rifle or pistol uses Glock pattern magazines (Remington 597 for the 22LR). Blowback operated for simplicity and reliability, both the upper and lower receiver are machined from 6061-T6 aluminum. One 10rd magazine is included.
Centerfire Aero Survival Homebuilders Kits are available is in 9mm Luger, .357Sig, .40S&W, 45ACP and even the powerful 10mm, all using Glock pattern magazines. Rimfire versions also available in 22lr and 22WMR and use Remington 597 magazines. The removable barrel and easily convertible caliber changes allow the shooter to switch between similar cartridges with nothing more than the change of a barrel and bolt assembly.
Now available with an MSRP of $375, the new Aero Survival Hombuilders Kit gives firearms enthusiasts an easy to complete pistol caliber carbine or handgun perfect for casual shooting, hunting or emergency situations.
You can find the print needed to see what needs to be finished on the receiver here.
An instructional video is available here.
You can find the ATF Approval letter here.
Barrel length: US 8" for pistols, 16.25" for rifles
Breakdown dimensions with barrel removed: US 18.5" (for rifles depending on which customer supplied stock is used)
Centerfire Cartridges: 9mm, .357Sig, .40S&W, 10mm, .45ACP
Rimfire Cartridges: 22LR, 22WMR
Magazine configuration: Centerfire – Glock pattern, Rimfire-Remington 597
Left or right handed ejection
Coating: None
Action: Semi-automatic, direct blow back
Safety: Sliding safety and integrated child trigger lock