Washington Utah, July 5, 2018: Cobalt Kinetics Forged Upper Conversion Kit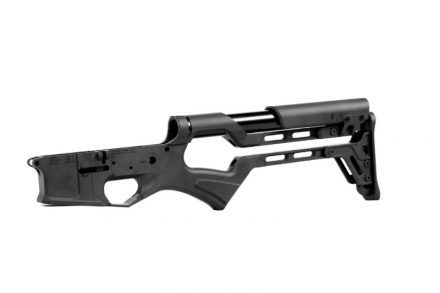 In March 2018 Cobalt debuted the model 27 rifle. This offering departed from the company's long-established BAMF platform in that the lower half was designed to have the feel of a more traditional rifle , and ended up being "compliant" (aka featureless) in restrictive markets like California. The lower receiver of the 27 does indeed mate up with Cobalt's own AR-15 patterned upper but its cross-platform universality ended there. The grip and stock interface and even the trigger shelf were altered to meet regulations that define and subsequently prohibit a gun based on the geometry of the grip and stock. The receiver extension bears the cheek rest while the aggressively swept grip organically morphs into a stock. It's made entirely of machined aluminum. It's a beautiful thing- evidence of the skill and nuance appreciated by the talented artists, engineers and machinists at Cobalt Kinetics.
Now, as far as they dared depart from the norm with the release of the 27, this most recent rumbling from Cobalt would seem to deviate even further from their established traditions- the hand crafted individually fit rifles for which the company is known. This strategic pivot in product offering manages to connect the universal legality and utility of the 27 to the masses of AR-15 owners living under the shadow of anti-gun legislation. It's called the Forged Upper Conversion Kit, and it presents as an empty lower half- complete with grip and stock and receiver extension and cheek rest- that has been redesigned (from Cobalt's own signature aesthetic) to mate seamlessly with most all off-the-shelf AR patterned upper receivers. Like all of Cobalt's wares, the Forged Upper Conversion Kit is still hewn from a solid block of 7075 T651 certified aluminum alloy, but machined to a contour that will indeed mate and function with nearly every AR-15 upper out there.
The Forged Upper Conversion Kit hits the market as a stripped lower- includes only the assembly hardware for the 13 stock components, buffer retainer, bolt catch screw, trigger guard and a couple of non-typical springs (selector and takedown detent). The rest is up to the builder. Cobalt Kinetics assures a 99% cross-brand compatibility as it applies to uppers, triggers, magazine catches and takedown hardware.
Skylar Stewart, Vice President of Cobalt Kinetics added:
"We have always heard the needs of our dealers and clients…More restrictive states (especially California) have been looking for a legal solution to a complicated and ever-changing legislative environment. We are proud of the Forged Upper Conversion Kit and we believe it's the best way to maintain as much functionality as possible with the AR platform. It can be configured to be legal in all 50 states. The only non-standard parts this platform uses are included in the kit. California is a large and rich gun market that just suffered the enactment of the most sweeping anti-gun legislation since their 1999 assault weapon ban. If you look at the Forged Upper Conversion Kit, it's apparent that it's very labor intensive. It's not an easy thing to produce at Cobalt's level of quality. This kit is not about supporting our financial bottom line. We want to make this kit accessible to as many people as possible to make a real difference. It's ridiculous for responsible gun owners to be turned into criminals overnight by misguided laws. At this moment we're hoping to help support and maintain the shooting culture in our country."
The Forged Upper Conversion Kit is being released in the "stripped" state at an Introductory MSRP of $699. It's promised to be available for looks, feels, and buys at Cobalt's dealers by mid-July. Standard catalog colors are Black, Stainless, Cobalt Kinetics Green, FDE, Gray and Cobalt (gunmetal gray). Contact Cobalt Kinetics for details, restrictions, and special order options.