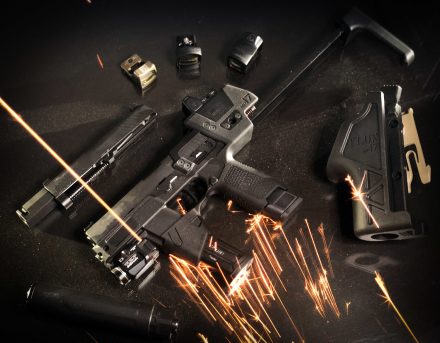 FLUX Defense, creator of the FLUX Glock pistol brace, is expanding their product line with the introduction of the FLUX MP17. Available in both a pistol brace and stock-equipped SBR configuration, the MP17 is a chassis specifically for the SIG Sauer P320. The MP17 accepts the serialized Fire Control Unit and slide assembly from full-sized P320 variants, shifting from a traditional pistol design to one more reminiscent of a PDW.
FLUX MP17 from Flux Defense on Vimeo.
Features include a railed forend for the attachment of lights and/or lasers, an on-board spare mag carrier, QD mount for slings, and a fixed optic mount that is compatible with most micro red dot sights like the RMR or Deltapoint, which can also be outfitted with a Picatinny rail for the use of a larger electronic sight such as an Aimpoint or EoTech. FLEX Defense is also offering a Level 2 Retention holster specifically designed for use with the MP17, which is compatible with multiple styles of lights and even a mounted suppressor.
Intentional or not, the MP17 is actually pretty similar to the B&T USW-320. However, I kind of like FLUX's take on the concept better, if mainly because of the fixed optic mount.
For more information, check out FLUX Defense's website via the link below:
Tags: FLUX Defense, SIG Sauer