I'm no stranger to launch events at my local GameStop, and for Homefront we decided to do something a little different. With the approval of the store manager, I was allowed to promote my own website as well as give away a few goodies to the other attendees. Of course this meant I had to dress the part, and since I am the Tactical Fanboy…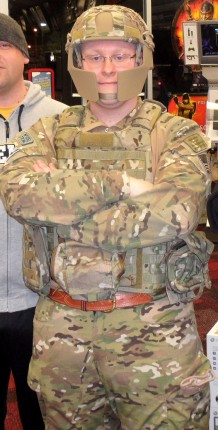 That means lots of MultiCam. Specifically a 5.11 Tactical MultiCam Rapid Assault Shirt, Arc'teryx Talos Pant, Eclipse Releasable Body Armor Vest, and a Crye Precision Airframe helmet to top it all off. With the chops on it I think it looks like a modern Hoplite helmet, but maybe that's just me.
The main attraction at the launch event was a viewing of Red Dawn. Partly because both Homefront and the afore mentioned film are written by John Milius, but mostly because of Patrick Swayze and Charlie Sheen. As expected, copious amounts of jokes involving Roadhouse and cocaine were involved. Also, Dirty Dancing and tiger blood. Never gets old, really.
We also happened to use the special carnage counter found on the DVD as a vehicle for the giveaways. It's a large banner that shows up periodically during the movie and counts how many casualties for both Soviets and civilians as well as the number of explosions that occur. The attendees tried to guess how many of each before the film ended. Those that were closest won one of several prizes, as seen below.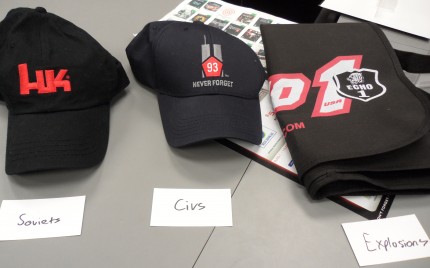 The lucky winners:
A few other goodies, like misc. patches and load-bearing clips were given away as secondary prizes. I also got my ass handed to me in Marvel Vs. Capcom 3, twice*.
*(Thankfully) not pictured
When midnight rolled around, I was first in line once again. Three launches in a row, suckers! All kidding aside, I also got the copy of Red Dawn as a bonus, since I didn't actually own the film. That should complete my John Milius collection, I think.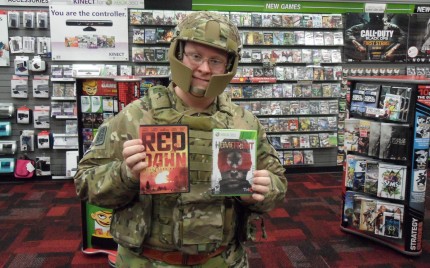 As for Homefront, I'm enjoying what I've played so far. The campaign's pretty 'meh', but the online is pretty damn fun. If you're looking for a decent multiplayer experience, you could do way worse.
And now, for all the new readers I (hopefully) recruited at the launch event:
I'm a proponent of using social media to my advantage, despite not totally understanding why it's so popular. So add me via the following methods to keep up with the latest Fanboy news, or play a few games online. Whatever works best:
Xbox Live: Tactical Fanboy
Twitter: @Tacfanboy
Facebook: Tactical Fanboy