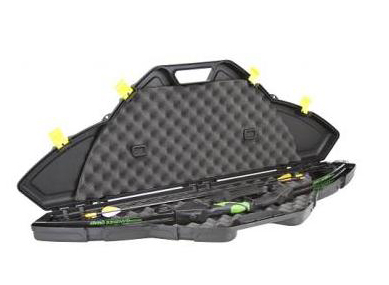 Plano, IL (September 13, 2013) – Archers wanting to protect their equipment investments have looked to Plano® for durable, reliable and affordable solutions. As the leader in bow storage care, the company has built a new option designed specifically for smaller youth models or downsized adult styles of recurve and compound bows.
Plano's new Ultra-Lite Bow Case, model 1108-00, was constructed with the same expertise and features found in their most popular full-size cases, including dense foam padding on the lid and base to secure the bow in place. Plano's patented PillarLock system provides another level of strength with two strategically located crush-resistant support pillars.
The case has four yellow snap-on latches that provide tight and positive closure, and its molded handle affords comfort and carrying convenience.
The Ultra-Lite Bow Case's exterior measures 40.625" x 14.125" x 3" and its inside dimensions measure 39.5" x 12.75" x 2.5". The black case styled with yellow latches makes smaller bow storage look good.
For more information on the Ultra-Lite Bow Case and other Plano products made for hunting and shooting sports enthusiasts, visit www.planomolding.com.