We've got five of UK-based Intelligent Armour's Lightweight Combat Belts – featuring the Austrialpin one inch Cobra buckle – to giveaway in the following colors/camos and sizes:
Black – 28-34″
MultiCam – 28-34″
MultiCam – 42-46″
Coyote Tan – 28-34″
A-TACS – 36-40″
Additionally, the winners will also receive a Tactical Fanboy patch of their choosing: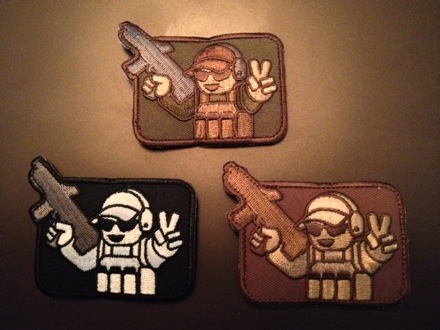 Clockwise from top: Full Color, Desert, SWAT
Rules
– In the comments section of THIS article on TFB (and nowhere else) simply state which belt and color patch you want; comments about the site won't increase your chances, but they are appreciated! Remember, post in comments section of THIS article on TFB. The winners will be randomly chosen based on their personal selection of belt.
– Contest ends at 1600 Zulu on Friday, September 27th. Comments will be closed when the deadline is reached.
– Use any nom de guerre you desire but use your real email address as we will use it to contact the winners to request your shipping address; one entry per email, please.
– Winners will be notified Monday, September 30th; unclaimed prizes will be redistributed.
– Void where prohibited.
www.body-armour-protection.co.uk/Lightweight-Combat-Belt-cobra-buckle.html