USA Today showed their ass again, this time with an infographic-style animation of the "Texas Church Gunman's AR-15 Style Rifle". Starting off with a "What we know about the Ruger AR-556", as if they're performing a revealing expose on previously unknown information (including music that sounds like the mission planning BGM of a Tom Clancy video game), they go over the basic features of the rifle, including its telescoping stock, standard-capacity magazine, and iron sights. It's when they get into the list of aftermarket modifications, however, that the hilarity really starts to show: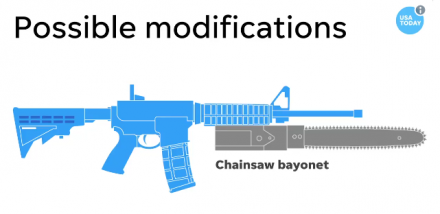 Yup, a 'Chainsaw bayonet'. Now, to their credit, they did say some of these accessories are "rare" (like that masterkey they also showed), but this? C'mon, could they be any more baity if they tried?*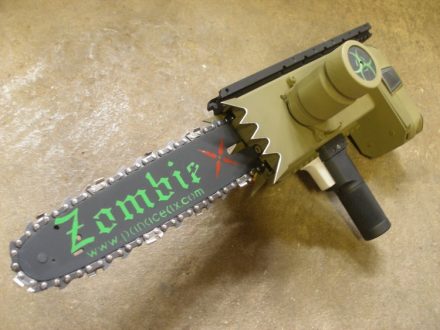 Granted, the thing does exist: a company called Panacea X makes them, and to my discredit, there was one floating around SHOT Show, and I totally missed it while walking around. Anyway, dubbed the 'Zombie X Chainsaw', it's a Picatinny-mountable chainsaw available in multiple color configurations. Each Zombie X is lovingly crafted right here in the USA, and features an aluminum grip, chassis, and rail mount, and can function as a standalone chainsaw when not mounted to a scary black rifle. Plus, it comes with the following accessories and goodies: battery, charger, t-shirt, bumper sticker, and free CONUS shipping.
www.panaceax.com/weaponized-chainsaw
*Of course, that's really the goal, and I'm one of many, many people and outlets writing about it, so, mission accomplished!