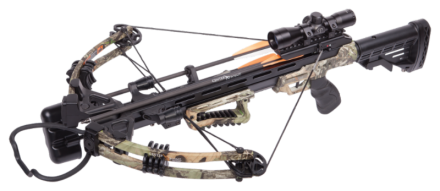 Bloomfield, NY – November 30, 2017 – Building on the success of the best-selling Centerpoint Sniper Crossbow, Centerpoint is now introducing an expanded package with even more value and performance at an extreme value. The new Sniper Elite Whisper™ has the same outstanding performance as the original Sniper, sending arrows down range at 370 fps, but the new Sniper Elite Whisper™ features the Whisper Silencing System™ package with integrated string suppressors and silencers for an even quieter shot. It also features a Centerpoint 4 x 32mm scope, a fully adjustable AR-Style butt stock and an adjustable fore-grip with oversized finger guards, delivering a customized and comfortable fit.
"The new Sniper Elite Whisper crossbow is a homerun. It is packed with features typically found on higher retail crossbows. By upgrading the Sniper 370 with the Whisper silencing System, a pass through rubberized Foregrip, a compact parallel quiver, and oversized stirrups, CenterPoint has raised the bar for an affordable, top performing crossbow," says CenterPoint Archery Director, Andy Fulton. "This bow provides an affordable option for the hunter looking for a feature rich value when choosing a crossbow."
The Sniper Elite Whisper 370 will be displayed at the Centerpoint booth # 5113 at the ATA show in January 2018. Centerpoint will also display a patent-pending mechanical cocking aid that will work with the original Sniper as well as the Sniper Elite Whisper.
About Crosman
Since its founding in 1923, Crosman has been driven by the steadfast pursuit of quality and innovation. Crosman's history is rooted in the airgun industry, where today Crosman remains the market leader in airguns, airgun ammunition, and consumables. In addition to airguns, Crosman has a diversified product lineup in the outdoor sporting goods industry that includes airsoft, firearms optics and laser aiming devices under the Lasermax brand, and archery products under the Centerpoint brand. Crosman is a subsidiary of Compass Diversified Holdings Inc. (NYSE: CODI). For more information visit www.crosman.com or contact Jay Duncan at [email protected].
Tags: Crosman