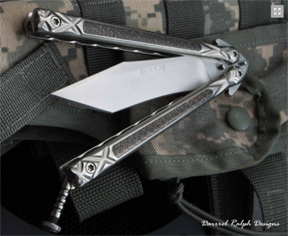 A little knife update from Swingin' Dick and Slim.
We spent some time recently with the Auguste Rodin of knife building up in his double secret super foundry forge headquarters near Cincinnati and got to talk to The Man himself, Mr. Darrel Ralph of Darrel Ralph Designs. As you might expect, he's got a lot of awesome in the works.
One of these is new developments is the NLT (No Lock Tite) Pivot System they recently developed to further improve the reliability and smooth function of DDR knives. The NLT is a pivot adjustment system that will stay tight and adjusted. They stopped using lock-tite because it breaks loose after several hours of swinging (which is obviously problematic, if you're using a knife with an integral swing function).
Here are the instructions for the NLT Pivot system. More to follow.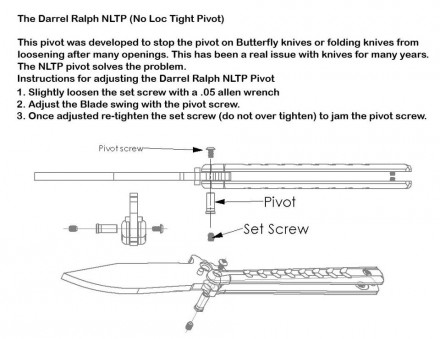 Darrel and his staff have also recently finished the initial tests of their new Maxx Glide Pivot Bushing System, a bushing system intended to accompany their bearing system.
"This bushing system and the NLT are easy to adjust," Darrel said, "and has virtually no blade play. Plus our clutch mechanism will allow blade tension to be adjusted to your liking, you know if you prefer a little tension on the blade."
We're returning in a month or two, though we haven't decided if we're going back to the Darrel Ralph shop or if we're just gonna take some single dancing moms to King's Island.