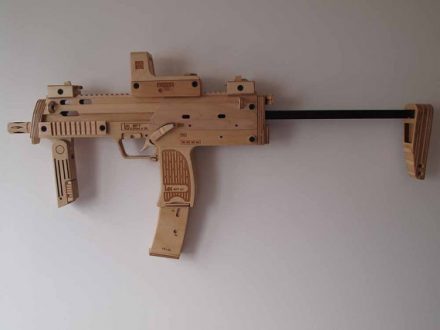 Jenni Edwards, a UK-based artist, creates highly detailed laser cut and laminated scale models of modern firearms. Her works include 2 models of the SCAR which are currently in the FNH Belgian HQ, as well as MP7 models which were produced for the UK's Royal Armouries. The latter model is what's currently available for sale via Edwards' Etsy shop, 'Splintersell'. The model is made of maple and birch, and features fully moving parts, including:
Removable magazine
Retractable buttstock
Retractable charging handle
Trigger which releases the hammer

The model also features a functioning green dot sight, a removable suppressor, and weapon accurate markings.

www.etsy.com/listing/167338406/wooden-heckler-koch-mp7-made-out-of-a

Thanks to 'Allen' for the tip!