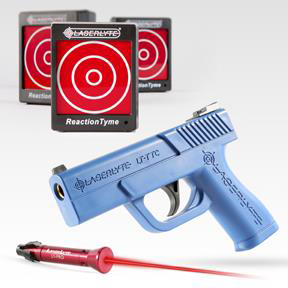 Cottonwood, Ariz. – LaserLyte®, innovators in firearms laser technologies, proudly introduce the seriously fun laser Triple Tyme Kit consisting of the LaserLyte® Reaction Tyme Targets (3), a Trigger Tyme® Compact Training Pistol and a LT-PRO Pistol Laser Trainer. Everything anyone needs to train, teach or just have fun anywhere, anytime.
The Trigger Tyme® pistol cannot accept or fire ammunition, making it a safe training tool for all ages and skill sets. The compact size of the pistol is ideal for training young shooters and individuals with small hands.
The Reaction Tyme Targets work independently of other allowing for a variety of shooting scenarios. interactive target system works in two modes; reaction and training. The reaction mode features random LED signals in intervals of 3 to 7 seconds that can be shot by the Trigger Tyme® compact pistol or any other LaserLyte® Trainer. The training mode allows the user to practice trigger control and accuracy with an always on and ready-to-be-shot mode. When a hit is made the target sounds 2 beeps and a LED flash.
The LT-PRO is easily inserted into the muzzle end of the Trigger Tyme® pistol for hours of training and fun. It can also be used in a real firearm for realistic training with the user's actual carry firearm. MSRP for the LaserLyte®
TLB-TTK is $279.95.
LaserLyte® continues to get sport shooters and professionals on the target faster, increasing accuracy
and overall hits with affordable and fun laser training tools.
For more information, visit www.laserlyte.com.