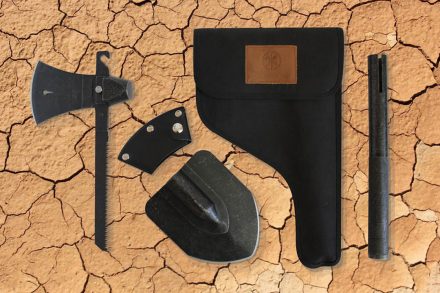 The Adventure Mate is an Australian 5-in-1 tool designed for outdoor enthusiasts. Made of AS1442-2007 Carbon Rolled Steel, the Adventure Mate consists of three main parts:
Hatchet w/ Hammer Head, Hook at top, Saw Blade
Handle Pole
Spade Head
The tool centers around the Handle Pole, which attaches to either the Hatchet head or Spade Head, allowing full use of the attached tools. The Adventure Mate also comes with a leather safety sheath and a heavy duty, lined canvas holster.