Coopersville, MI, White River Knife & Tool, September, 2017- White River Knives, always innovative has a new handle conversion kit designed for their incredibly popular Backpacker model.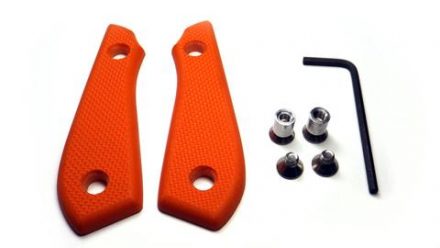 The Backpacker comes with the handle wrapped with para-cord. Once the para-cord is removed and utilized the owner may choose not to wrap it again.
White River's new Backpacker scale kit comes with stainless-steel hardware, Allen wrench and scales made of textured G10 material in black or orange to fit the handy knife with the para-cord removed. G10 is an incredibly tough high-pressure epoxy impregnated fiberglass high-heat cured laminate. Also, the new scale handle conversion kit provides a bit more grip purchase for cutting.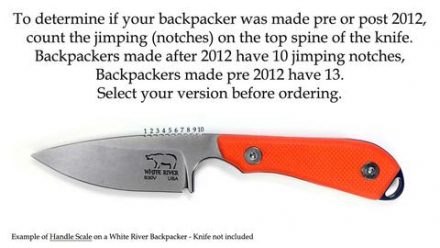 There are two models of the Backpacker so White River made two models of scales. The jimping (notches for the thumb) will designate which handle kit to get. When ordering from the company, specify 10 or13-notch knife.
At only $20 for the kit this is a sweet deal for owners who would like a more conventional handle.
Weighing under an ounce these scales both look and work great. And as with every single part and piece of a White River knife–these are 100% American made.